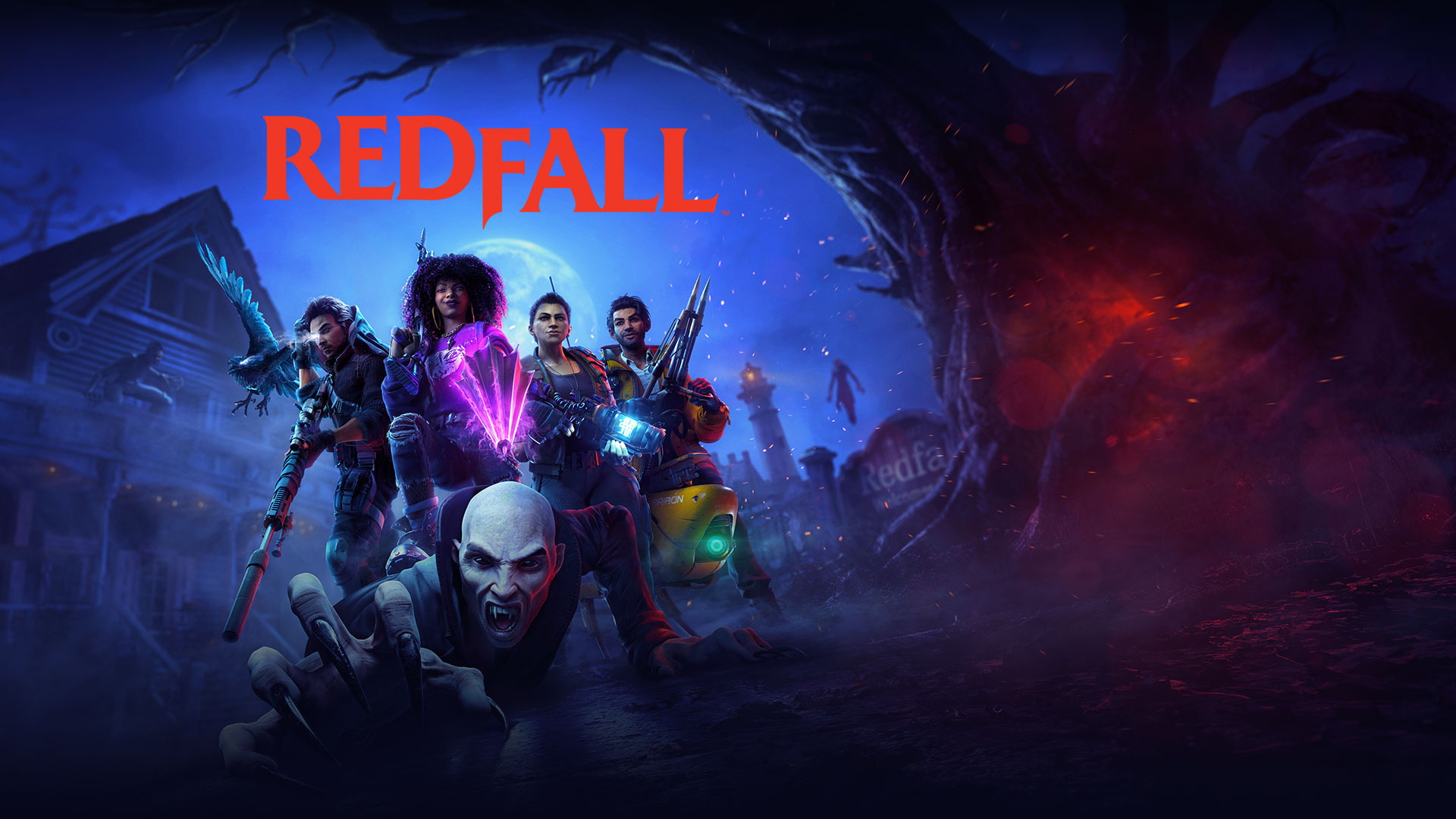 Redfall
Redfall is an open-world, single player and co-op FPS from Arkane Austin, the award-winning team behind Prey and Dishonored.

Discover your next favourite game
Play hundreds of high-quality games with friends, plus enjoy online console multiplayer and an EA Play membership, all for one low monthly price.
Game features
Uncover the truth, take back Redfall
The island town of Redfall, Massachusetts, is under siege by a legion of vampires who have blocked out the sun and cut the citizens off from the outside world. Ally with a handful of survivors against the creatures threatening to bleed the town dry.

Slay alone or squad up
Venture into the darkness alone or to squad-up for up to four player co-op. Teammates can try different loadouts and combine their strengths to find creative solutions to the vampire apocalypse that suit their playstyle.

Unconventional heroes versus the night
Choose from a team of diverse heroes – each with their own character-specific abilities – to overcome the vampire legion and their brood of maniacal followers.

The open world of Redfall
Redfall is a true Arkane experience in a rich world that blends the familiar with the extraordinary. Fight through cultist outposts and supernatural psychic spaces as you piece together Redfall's many mysteries.

Devinder Crousley

Devinder Crousley is a cryptozoologist and aspiring inventor. His recent book tour landed him in Redfall, just before it went dark. After years of struggling to create cutting-edge tech to hunt supernatural phenomena, everything is finally starting to click. In Redfall, monsters are real and his inventions work. As he puts them to use fighting vampires, he documents every step of the way. If he gets out of this alive, he'll have all of the validation he needs.

Layla Ellison

Layla Ellison moved to Redfall from Wisconsin. She studied biomedical engineering at Redfall Technical University and volunteered for a medical trial at the ominous Aevum Therapeutics research facility, where apparently something went very wrong, leaving her with intense telekinetic abilities.

Remi De La Rosa

Remi De La Rosa is a combat engineer, and a brilliant one at that. She's lived her life on the frontlines of conflict, using her brilliant mind to protect her loved ones and help those in need around the world as part of an elite Navy rescue unit. With the help of her robot cohort, she's determined to help rescue Redfall's survivors and eliminate any enemies that stand in her way.

Jacob Boyer

Jacob Boyer is an ex-military sharpshooter, sent in to Redfall just before the sun darkened as part of an elite private security force. Dark circumstances separated him from his platoon, forcing him down a rogue path. Now he stalks the streets of Redfall, neutralising evil from the shadows with supernatural precision. Look for a mysterious, ragged raven circling overhead—you may not see him, but Jacob will be nearby.
Additional information
Publisher
Bethesda Softworks
Developer
Arkane Studios
Genre
First-Person Action
Platforms
Xbox Series X|S
Windows 10/11

Standard Edition
Included with Game Pass
Play Redfall and hundreds of high-quality games for one low monthly price with Game Pass.
Buy Redfall

Bite Back Edition
BITE BACK EDITION CONTENT
Base Game
Redfall Hero Pass with Two Future Heroes
Laser Beam Multi-Weapon Skin
Tactical Knife Stake Weapon Attachment
Northern Expedition Devinder Outfit
Eyes in the Dark Jacob Outfit
War Clothes Layla Outfit
Engineer Volunteer Remi Outfit
Save [[PLACEHOLDER1]]
days
hours
Jump to purchase section
minutes
day
hour
minute
[[PLACEHOLDER2]] remaining
[[PLACEHOLDER]] with Xbox Live Gold
[[PLACEHOLDER]] with Xbox Game Pass
[[PLACEHOLDER]] with EA Access
User rating
BUY NOW
PRE-ORDER NOW
DOWNLOAD NOW
box shot
Buy now, [[PLACEHOLDER]] at the Microsoft Store
Pre-order now, [[PLACEHOLDER]] at the Microsoft Store
Download now, [[PLACEHOLDER]] at the Microsoft Store
[[PLACEHOLDER]]
[[PLACEHOLDER]], learn more about ratings
jump to purchase section