Optimised for Xbox Series X|S
Games built using the Xbox Series X|S development kit are designed to take advantage of the unique capabilities of the Xbox Series X|S. They will showcase unparalleled load-times, visuals, responsiveness and framerates up to 120FPS.

Discover your next favourite game
Play hundreds of high-quality games with friends, plus enjoy Xbox Live Gold and an EA Play membership, all for one low monthly price.
What's new with Marvel's Avengers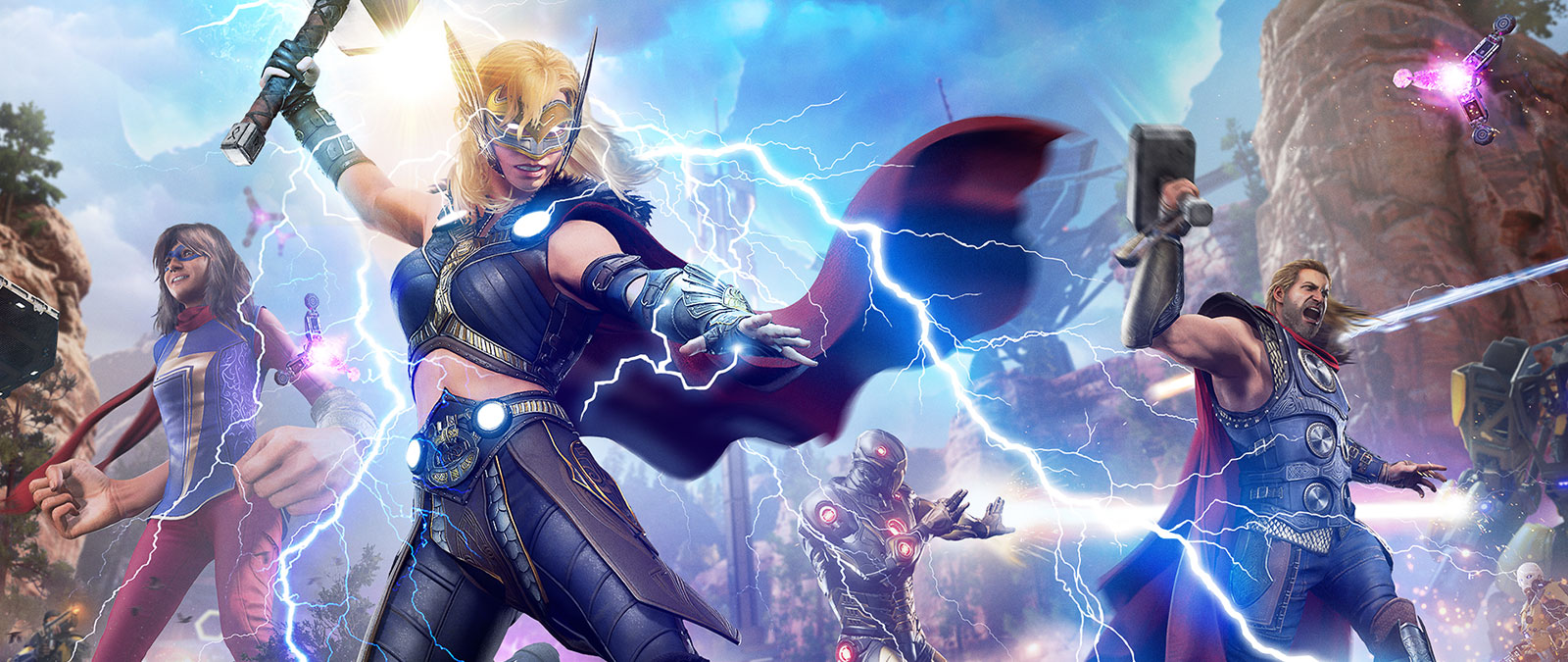 You Are Worthy. Become the Mighty Thor Now.
Jane Foster is the Mighty Thor: the wielder of the legendary Mjolnir, guided by her determination to use her power for good. She comes from a world where Asgard has fallen, and she had to turn to an untrustworthy ally to save what remained.
GET IT NOW
Play as Black Panther now
Wakanda is under siege by Klaue and AIM, who seek to steal its Vibranium. King T'Challa, the Black Panther, is determined to stop the invasion himself. As the war takes its toll, he must decide: can he trust Shuri, the Avengers and Wakanda itself? Or will he continue to fight alone?
GET IT NOW
Marvel's Avengers Operation: Hawkeye - Future Imperfect is now available on Xbox One & Xbox Series X|S!
Though a master archer and swordsman, Clint Barton still doubted his abilities as an Avenger. After the A-Day disaster, he decided to investigate the disappearance of Nick Fury with his mentee, Kate Bishop. In their search, they stumbled upon AIM's secret Tachyon Project, which ended in Clint getting captured. Though Kate brought him back to the Avengers, peril doesn't leave him; he falls into a coma, witnessing a future vision that leaves him confused and defeated when he finally wakes. Now, it's up to him to stop the end of the world.
GET IT NOW
Game features
Play an original Avengers story
With all Super Heroes outlawed and the world in peril, New Jersey teenager Kamala Khan uncovers a shocking conspiracy and the only hope is to reassemble the Avengers in time to stop Advanced Idea Mechanics.
Embrace your powers
Progress through the single player campaign to rebuild your Hero roster and restore their powers; then continue to battle AIM solo or online with friends. Unlock powerful skills and new gear for Earth's Mightiest Heroes that suit your playstyle.
Assemble online
Play Hero Missions (single player) and Warzone Missions (single-player or co-op) online to defend the Earth from escalating threats that only the Avengers can overcome. The narrative will unfold on an ongoing basis, with new Super Heroes and regions delivered at no additional cost.
Game details
Marvel's Avengers begins at A-Day, where Captain America, Iron Man, the Hulk, Black Widow and Thor are unveiling a new, hi-tech Avengers Headquarters in San Francisco. The celebration turns deadly when a mysterious enemy causes a catastrophic accident which results in massive devastation. Blamed for the tragedy, the Avengers disband. Five years later, with all Super Heroes outlawed and the world in peril, a sprawling adventure ignites when a determined young woman named Kamala Khan sets out to reassemble and rebuild the Avengers to stop the unchecked power of the secretive new force known as AIM.
Marvel's Avengers continues the epic journey with new Heroes and new narrative delivered on an ongoing basis, for the definitive Avengers gaming experience.
Additional information
Developer
Crystal Dynamics
Eidos-Montréal
Nixxes Software
Crystal Northwest
Platforms
Xbox Series X|S
Xbox One
Standard Edition
Included with the Xbox Game Pass
Play Marvel's Avengers and over 100 more high-quality games for one low monthly price with Xbox Game Pass.
Buy Marvel's Avengers
Marvel's Avengers leverages Smart Delivery allowing access to both the Xbox One title and the Xbox Series X|S title.
Deluxe Edition
Includes the base game + skins:
Black Widow - Marvel Studios' Avengers: Endgame
Hawkeye - Marvel Studios' Avengers: Endgame
Iron Man - Bleeding Edge
Hulk - Gladiator
Thor - Young Thor
Captain America - Ultimate Patriot
Ms Marvel - Advanced
Kate Bishop - Hawking Bird
Marvel's Avengers leverages Smart Delivery allowing access to both the Xbox One title and the Xbox Series X|S title.
Save [[PLACEHOLDER1]]
days
hours
Jump to purchase section
minutes
day
hour
minute
[[PLACEHOLDER2]] remaining
[[PLACEHOLDER]] with Xbox Live Gold
[[PLACEHOLDER]] with Xbox Game Pass
[[PLACEHOLDER]] with EA Access
User rating
BUY NOW
PRE-ORDER NOW
DOWNLOAD NOW
box shot
Buy now, [[PLACEHOLDER]] at the Microsoft Store
Pre-order now, [[PLACEHOLDER]] at the Microsoft Store
Download now, [[PLACEHOLDER]] at the Microsoft Store
[[PLACEHOLDER]]
[[PLACEHOLDER]], learn more about ratings
jump to purchase section