Optimized for Xbox Series X|S
Games built using the Xbox Series X|S development kit are designed to take advantage of the unique capabilities of the Xbox Series X|S. They will showcase unparalleled load-times, visuals, responsiveness, and framerates up to 120FPS.
What's new with Borderlands 3
Game features
A mayhem-fueled thrill ride
Stop the fanatical Calypso Twins from uniting the bandit clans and claiming the galaxy's ultimate power. Only you, a thrill-seeking Vault Hunter, have the arsenal and allies to take them down.
Your Vault Hunter, your playstyle
Become one of four extraordinary Vault Hunters, each with unique abilities, playstyles, deep skill trees, and tons of personalization options. All Vault Hunters are capable of awesome mayhem alone, but together they are unstoppable.
Lock, load, and loot
With bazillions of guns and gadgets, every fight is an opportunity to score new gear. Firearms with self-propelling bullet shields? Check. Rifles that spawn fire-spewing volcanoes? Obviously. Guns that grow legs and chase down enemies while hurling verbal insults? Yeah, got that too.
Quick & seamless co-op action
Play with anyone at any time online or in split-screen co-op, regardless of your level or mission progress. Take down enemies and challenges as a team, but reap rewards that are yours alone – no one misses out on loot.
New Borderlands
Discover new worlds beyond Pandora, each featuring unique environments to explore and enemies to destroy. Tear through hostile deserts, battle your way across war-torn cityscapes, navigate deadly bayous, and more!
Game details
The original shooter-looter returns, packing bazillions of guns and an all-new mayhem-fueled adventure! Blast through new worlds and enemies as one of four brand new Vault Hunters – the ultimate treasure-seeking badasses of the Borderlands, each with deep skill trees, abilities, and customization. Play solo or join with friends to take on insane enemies, score loads of loot and save your home from the most ruthless cult leaders in the galaxy.
HDR: HDR functionality available with supported games and TVs.
Xbox One X Enhanced: Enhanced features for Xbox One X subject to release of a content update. Games information at xbox.com/enhanced.
Additional information
Developer
Gearbox Software
Platforms
Xbox Series X|S
Xbox One
Release date
September 13, 2019
Deluxe Edition
Xbox One copies of Borderlands 3 include a digital upgrade to the Xbox Series X|S version! Bonus content for Next Level Edition includes:
Multiverse Final Form Amara Cosmetic Pack
Multiverse Final Form FL4K Cosmetic Pack
Multiverse Final Form Moze Cosmetic Pack
Multiverse Final Form Zane Cosmetic Pack
Super Deluxe Edition
Xbox One copies of Borderlands 3 include a digital upgrade to the Xbox Series X|S version! Super Deluxe Edition includes the Season Pass & Deluxe bonus content.
Season Pass:
4 campaign DLC packs featuring new stories, missions and challenges
Butt Stallion weapon skin, weapon trinket, and grenade mod
Deluxe bonus content:
Retro Cosmetic Pack
Neon Cosmetic Pack
Gearbox Cosmetic Pack
Toy Box Weapons Pack
Equippable XP & Loot Drop Boost Mods
Fourth Edition
Xbox One copies of Borderlands 3 include a digital upgrade to the Xbox Series X|S version! Ultimate Edition includes the Season Pass, five campaign add-ons, and additional bonus content.
Borderlands: Game of the Year Edition
Discover the co-op shooter-looter that started it all, crammed with content and enhancements! Equip bazillions of guns as one of four trigger-happy mercenaries, each with unique RPG skills. Take on the lawless desolate planet Pandora in pursuit of powerful alien technology: The Vault. With new weapons, visual upgrades, all 4 add-on packs and more, play solo or in 4-player split screen co-op!
BUY NOW
Borderlands: The Handsome Collection
Get the essential Borderlands compilation, now in Ultra High Definition! The Handsome Collection includes the definitive versions of both Borderlands 2 and Borderlands: The Pre-Sequel, so you can loot and shoot your way through the entire Handsome Jack saga from his not-so-humble beginnings to the heights of his egomaniacal tyranny.
BUY NOW
Commander Lilith & the Fight for Sanctuary
Experience a new Borderlands 2 adventure setting the stage for Borderlands 3. Sanctuary is under siege, the Vault Map has been stolen and a toxic gas poisons Pandora. Battle new bosses, collect new loot and join up with Lilith and the Crimson Raiders to take on a deranged villain hell-bent on ruling the planet.
BUY NOW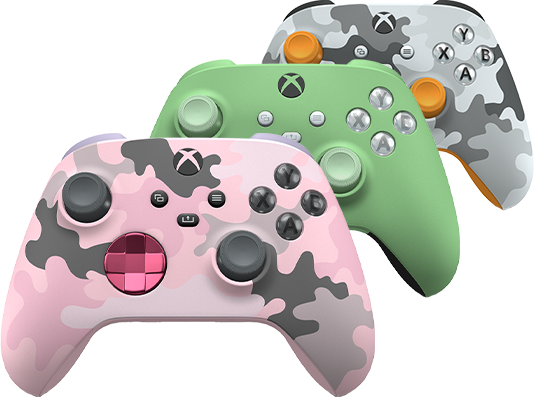 Xbox Design Lab
Save [[PLACEHOLDER1]]
days
hours
Jump to purchase section
minutes
day
hour
minute
[[PLACEHOLDER2]] remaining
[[PLACEHOLDER]] with Xbox Live Gold
[[PLACEHOLDER]] with Xbox Game Pass
[[PLACEHOLDER]] with EA Access
User rating
BUY NOW
PRE-ORDER NOW
DOWNLOAD NOW
box shot
Buy now, [[PLACEHOLDER]] at the Microsoft Store
Pre-order now, [[PLACEHOLDER]] at the Microsoft Store
Download now, [[PLACEHOLDER]] at the Microsoft Store
[[PLACEHOLDER]]
[[PLACEHOLDER]], learn more about ratings
jump to purchase section