What's new with Call of Duty®: Warzone™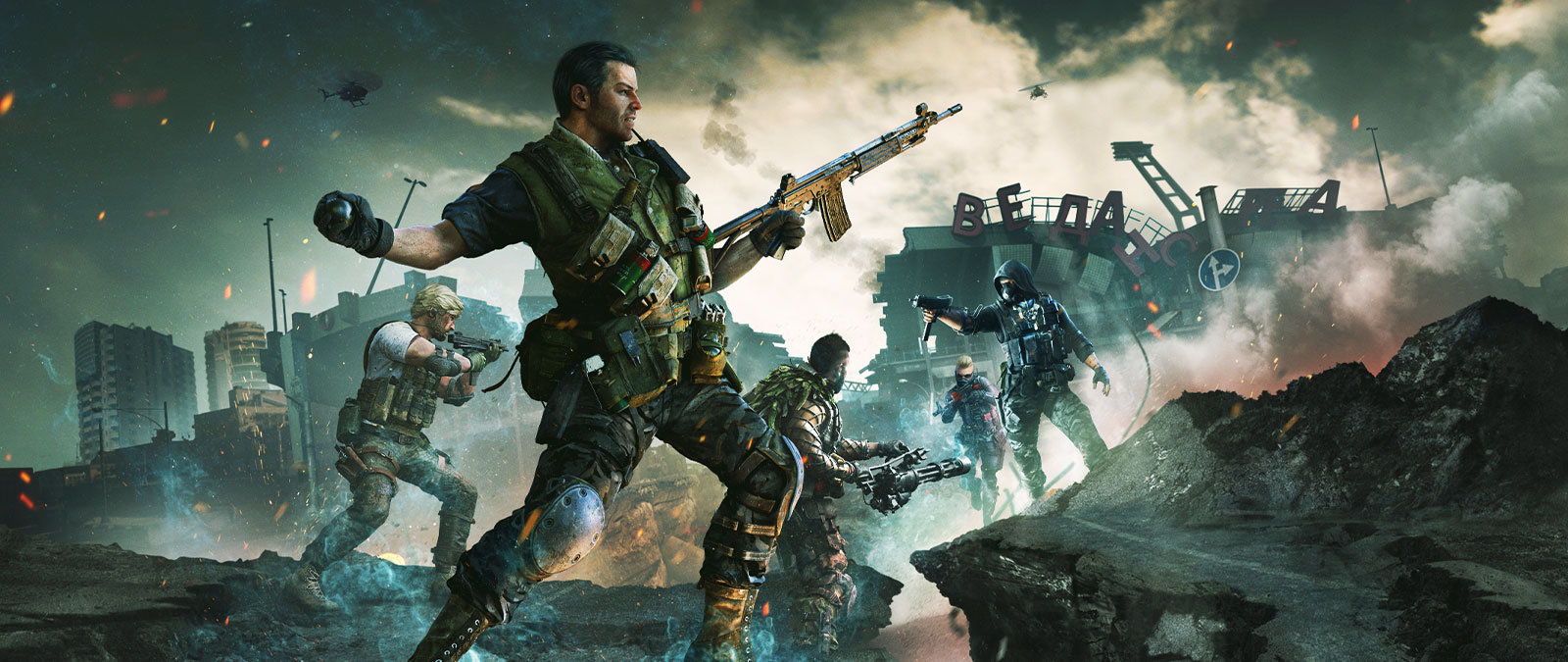 Shatter the system in Season 6
Battle through a rattled Verdansk as seismic charges transform the landscape. Shake things up with your squad in Verdansk and get ready to survive what goes bump in the night as the air begins to get colder…
Keep your head in Season Five
Mobile Broadcast Stations have been set up throughout Verdansk. Utilise two new Perks in Warzone: the Advanced Scouting Perk and the Reinforced Perk. Warzone also introduces Clash, a reimagined take on Rumble game mode, with all-new head to head gameplay. It's time to prepare for the unpreparable.
Season Four is here
Time is ticking. Use Red Doors if you dare, then race to satellite crash sites to secure exclusive loot and rewards. And make sure to preserve your life as the Gulag sets sail to the open waters. The satellites have already dropped — now it's your turn.
PLAY FREE NOW
Game features
Warzone unites with Black Ops Cold War
Not only will you have access to content previously obtained from Modern Warfare seasons but now you can play as Black Ops Cold War operators, use Cold War era weapons and more in Warzone.
Player progression
Synchronise your progress across Black Ops Cold War, Modern Warfare and Warzone and earn more content from the Prestige system challenges.
Weapon progression
Have access to every weapon you've unlocked in Modern Warfare and Black Ops Cold War, where all progression is shared across the titles. You're going to need a bigger Gunsmith table!
Action-packed locales
Drop into two different Battle Royale maps that offer various options for your playstyles. Verdansk is an open world map where you can fight in five major sectors while Rebirth Island is a smaller map that provides fast, frenetic action.
Original Gulag returns
Escape the all new, re-designed Gulag in this classic, last-chance 1v1 face-off pit where only the victorious Operator is redeployed back into the fight.
Game details
Welcome to Warzone, the massive and constantly evolving free-to-play battle royale from the world of Call of Duty®.
Drop In - Join forces with your friends and jump into a battleground with up to 150 players.
Loot For Rewards - Discover supply boxes and complete contracts to build your arsenal and gain a tactical advantage.
Battle Across Two Epic Modes - Experience a new way to 'Battle Royale', play 'Plunder' in a race to deposit the most Cash in the match and more modes from new seasonal content.
Additional information
Developer
Infinity Ward
Raven Software
Platforms
Xbox Series X|S
Xbox One
Release date
10 March 2020
Standard Edition
Welcome to Warzone, the massive combat arena from the world of Call of Duty®, free for everyone. Drop in, armour up, loot for rewards, and battle your way to the top.
Save [[PLACEHOLDER1]]
days
hours
Jump to purchase section
minutes
day
hour
minute
[[PLACEHOLDER2]] remaining
[[PLACEHOLDER]] with Xbox Live Gold
[[PLACEHOLDER]] with Xbox Game Pass
[[PLACEHOLDER]] with EA Access
User rating
BUY NOW
PRE-ORDER NOW
DOWNLOAD NOW
box shot
Buy now, [[PLACEHOLDER]] at the Microsoft Store
Pre-order now, [[PLACEHOLDER]] at the Microsoft Store
Download now, [[PLACEHOLDER]] at the Microsoft Store
[[PLACEHOLDER]]
[[PLACEHOLDER]], learn more about ratings
jump to purchase section